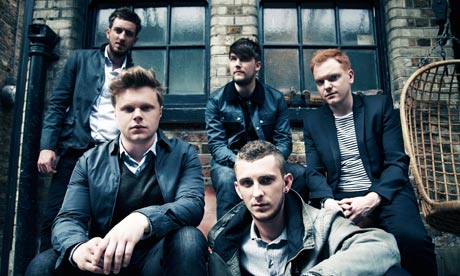 Recently the UK band, Morning Parade, took a call from me to chat about SXSW, their upcoming album and goals for the future. They are passionate, excited and thankful to be out enjoying all the things that music is inspiring them to be a part of.
Me: How was SXSW?
Steve: Amazing, manic, crazy, kind of everything everyone said it would be and more, everyone in and out of bars and lots of live music and very very very hot.
Me: What was it like playing 6 shows during a 4 day period for you guys?
Steve: It might be a new record for us, it was definitely good for our stamina, it kept us nice and strong. It was amazing we started off the week with some quite shows but ended the week with bigger and bigger shows.
Me: The UK Guardian, your local paper, recently stated that is was likely that you would be playing to 100,000 person stadiums with the audience singing along to your music – even though they didn't approve. Do you think SXSW will play a part in that manifesting?
Steve: Yeah, definitely. I liked the crazy vibe of just jumping on a stage in a tiny little bar and playing to people who have never been before. I don't know about stadiums and arenas, that is crazy talk. The UK Press is silly, we are gunna go on and do what we wanna do.
Me: You only have a single out currently; do have a song besides "Headlights" off the forthcoming album that you are excited about?
Steve: I think we like the whole collection but "Under the Stars" is really exciting for us, it has been kind of a calling card for us in Europe and has already been featured in the Vampire Diaries in the US. It's kind of cool, but we are a band this about an album, a journey and a piece of work. I think people when they get their hands on the record will realize that there are a whole bunch of great songs on there, we spent our last time trying to write as many great songs as possible and not just be a one-hit wonder.
Me: You are still touring, how is Portland today?
Steve: I am in Portland, I am actually standing outside the restaurant in Portland. Yeah, we are still here touring, we've still got a few more tours here and then we are back to Europe for a headline tour there but the US is just so big and different and everywhere you go in a crazy different vibe it's almost been like a big giant blur for us.
Me: What has been your favorite stop on the tour?
Steve: We played a great show in New Haven, CT it was such a strange vibe but we played this really cool venue called Cold Place, but I think as a whole the one thing that really stood out was SXSW, as an experience. For a lot of us I don't know it was just one of things that you will always remember the vibe and the feel of being in Austin, TX, for SXSW.
Me; I've been before, and this was my first experience to sit-out since the first time, I went. I was a little bummed but I remember it being a lot of work.
Steve: It's a lot of work but it's fucking awesome. It doesn't feel like work, it's like you wake up and you've only had a couple of hours and your yelling, "Go guys, let's go, lets party or something. "
Me: So you have a lot of touring planned before the release, what do you plan to do once it is released?
Steve: Ummm… yeah, I think we'll find some stuff. It will come festival season in Europe and we've put in a lot of groundwork in here and I think we are going to go and enjoy the record being out and people learning the songs while playing the festivals. And then we'll start working on the next record, ya know, we gotta start thinking about the next record. I think our headspace is even already there, thinking and planning on the next record.
Me: Has touring allowed for some time to think and plot about the next record?
Steve: It's quite hard actually while you are on the road because you are pretty busy, there is quite a bit of promo to do and a little bit of sleeping to do and you are sleeping where you can and doing what you can. When we get back we will take a bit of time off to get back together as a group, to have a few weeks back to our grassroots and into the studio. No shows, no promo, no television just getting back into the studio and writing again. The touring thing has been going on for so long now, nearly two years. We've been all over Europe, the UK and the US, I guess it's time to put our flag down. Touring has become the part we love the most, almost second nature to us it's not really hard work it's just fun. We are ready and excited to get on to doing some more and new songs.
Me: Do you have anyone that you see yourself touring or working with or playing songs with in the future that you are excited about?
Steve: Yeah, we have these guys back home with a band called Dog is Dead from the UK that are really cool. We are looking at some more touring around the end of the summer here in the US with a couple of cool bands we saw at SXSW, we are still weighing out our options and what's going on, it's kind of just ideas at the minute but it's a really cool lineup that we do need to talk about. It would be amazing.
Me: Well, thanks for sharing with me!
Steve: No worries, that is cool with me. I hope you make it to SXSW next year.
Don't forget to check "Headlights" off their forthcoming EP release "The Hated and the Loved," and for all of you that like to be the first to get something, you can pre-order their EP off their website, www.morningparade.com.
Enjoy!